SPEKTRA siloxane facade paint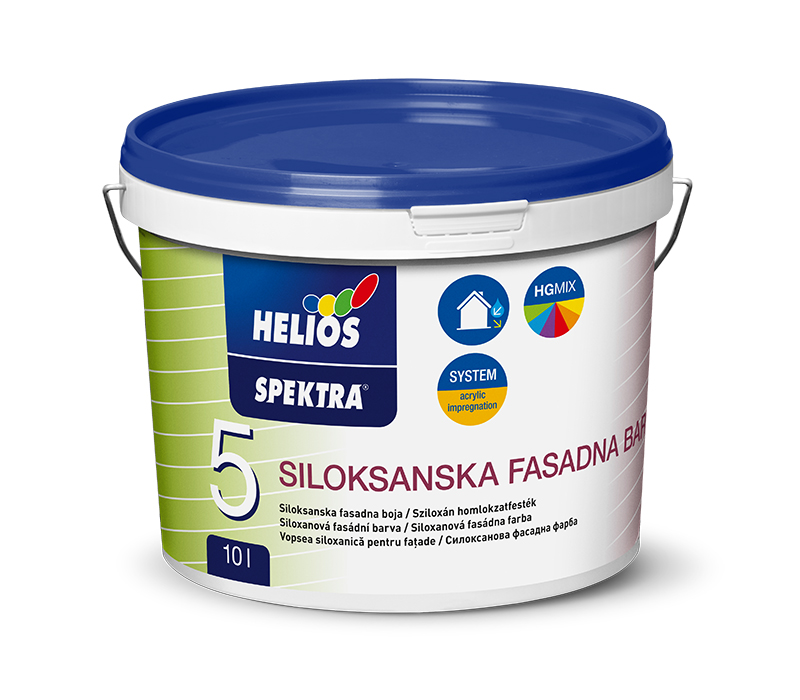 Calculation of consumption:
m2
* Consumption is calculated per one coat
Technical documentation
Safety data sheet
Are you not sure which product to choose?
For long-lasting decoration and protection of facade surfaces. It is suitable for painting of all types of plasters: lime-cement, silicate, silicone and dispersion plasters, and for renovation of old dispersion, silicate and silicone coatings.
Properties:
highly water vapour permeable and highly hydrophobic
water soluble, health- and environment friendly paint
resistance to the effects of weathering and the harmful industrial atmosphere
colour stability (inorganic pigments)
biocidal protection of the paint film
wide range of color shades – HGMIX
Consumption:
1 l covers 8–10 m2 of surface in 1 coat.
Packaging units:
Detailed information is available in the technical data sheet.
Colour shades:
White, HGMIX.
Tip:
We recommend you to read the technical information before using the product. The product must not freeze, store at a temperature between +5 °C and +35 °C and do not expose to direct sunlight. Do not pour the product into the sewage system.
Instructions for use:
Exterior wall surfaces

Mix before use

Thinning 5-10 %

Application with a roller or brush

Application with spraying

Cleaning tools with water

Drying time between individual coats: 6-10 h

Working conditions 10-25 °C