A smart thermal insulation system
16.09.2020
Decorative paint protection development is to some extent guided by legislation, but we also develop products with properties, that in various ways contribute to effective, economical, health and nature-friendly solutions for the decorative protection of wall, wood or metal surfaces. The toolkit of Helios' sustainable solutions in the field of decorative coatings includes thermal insulation interior wall coatings, which combine the coating's decorative and functional properties at the highest level.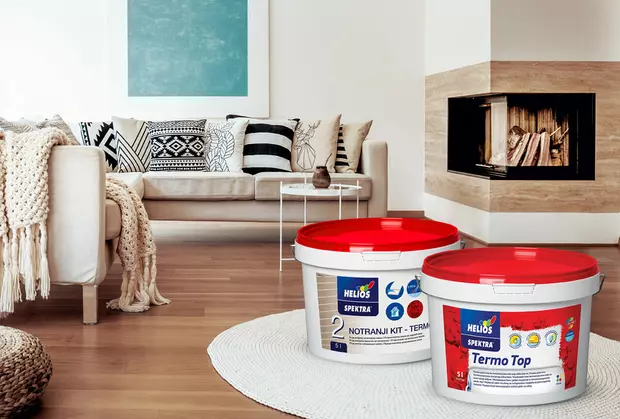 Thermal insulation interior wall coating
The interior wall coating SPEKTRA Termo Top in combination with SPEKTRA interior putty Termo form a thermal barrier, thanks to which the surface is warmer and more pleasant to the touch. This is made possible by the hollow fillers found in both products. The system keeps rooms cool in the summer and warm in the winter, which significantly decreases the cost of energy sources for heating and cooling. Using the system of both products effectively prevents the formation of condensation and consequently also the formation of mould. At the same time, their use avoids the frequent use of disinfectants and restoration.
A healthy and friendly living space
Mold is not only an aesthetic problem; it is primarily a harmful phenomenon. Inhaling mold spores present in such spaces can cause inflammation in the lungs, coughing, difficulty breathing and can exacerbate asthma. When such wall surfaces are treated with SPEKTRA interior putty Termo up to 4 mm thick, the heat transfer through them is significantly reduced. The walls remain warm, preventing condensation of water vapor from the air, which in turn eliminates the conditions for mold growth. SPEKTRA Termo Top thus creates a human-friendly living space with a positive impact on health. SPEKTRA interior putty Termo contains less than 1 g/l of volatile substances, so emissions during application and drying are minimal. Its elasticity also makes its suitable for covering small cracks on wall surfaces.
Before the final paint, we recommend a layer of the levelling compound SPEKTRA Level Fine, which is easy to apply and can be sanded. For the top coat we recommend SPEKTRA Termo Top, which further helps to reduce the passage of heat through the wall and retain heat. In addition, it also helps regulate the room's humidity and reflects more than 90% of the visible spectrum of light back into the room, creating more light. The interior wall paint SPEKTRA Termo Top is available in light shades, and the system is also compatible with any other interior wall paint from the SPEKTRA family.