SPEKTRA MAGNETIC – child-friendly wall paint
29.10.2021
Nowadays, interior wall paints offer a wide range of options. Not just in terms of the thousands of colour shades available, but also their numerous innovative features and characteristics. This includes "child-friendly paint" for interior walls, which are represented by Oliver, our cheeky mascot.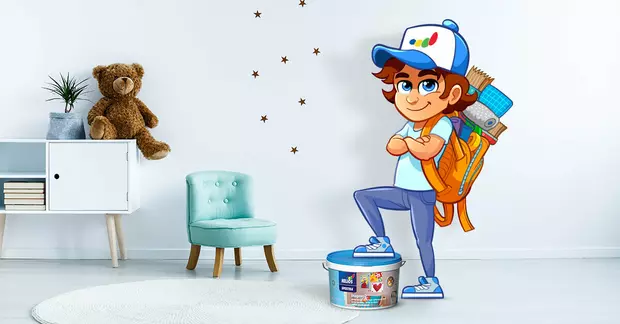 Choosing appropriate paint is all the more important for walls in rooms used by children. The safety and health of our youngest are extremely important to us, so Helios offers products among our decorative coatings that are especially suitable for them. These include the special wall paint SPEKTRA Magnetic, which allows magnets to adhere directly to wall surfaces. It is available in matte dark gray matte and adds a special layer of creativity to your children's space.
SPEKTRA Magnetic in the segment of decorative coatings represents a creative approach to the design and decoration of interior wall surfaces with added functionality. Its special power lies in its ferromagnetic material, which allows the attachment of messages, notices, posters, photographs, children's drawings, and other light objects. After applying the paint, attaching various materials using magnets is really easy, and without damaging the wall surface.
SPEKTRA Magnetic can replace cumbersome white magnetic or cork boards to hang your children's drawings and family photos at home. This special effect interior wall paint helps bring an additional layer of uniqueness into space, as it can be applied in any geometric shape. Let your imagination run wild - apply the paint in the shape of a cloud, or leave it up to your children. Using a store-bought or homemade stencil or thicker protective tape, apply two or three coats of SPEKTRA Magnetic. Once the paint dries, attach your chosen drawings and photos using magnets. SPEKTRA Magnetic is a child-friendly interior wall paint, which means that it is suitable for application in children's rooms, the study, kitchen, hallway, and other spaces. It is also suitable for use in public spaces such as kindergartens, schools, offices, restaurants, shops, and bars. 
Alongside SPEKTRA Magnetic, the Helios sales program offers additional child-friendly products, namely TESSAROL acrylic enamel,  suitable for painting wooden children's toys, and the innovative interior paint SPEKTRA Active Air with its cleaning function.