TESSAROL ACRYLIC ENAMEL FOR RADIATORS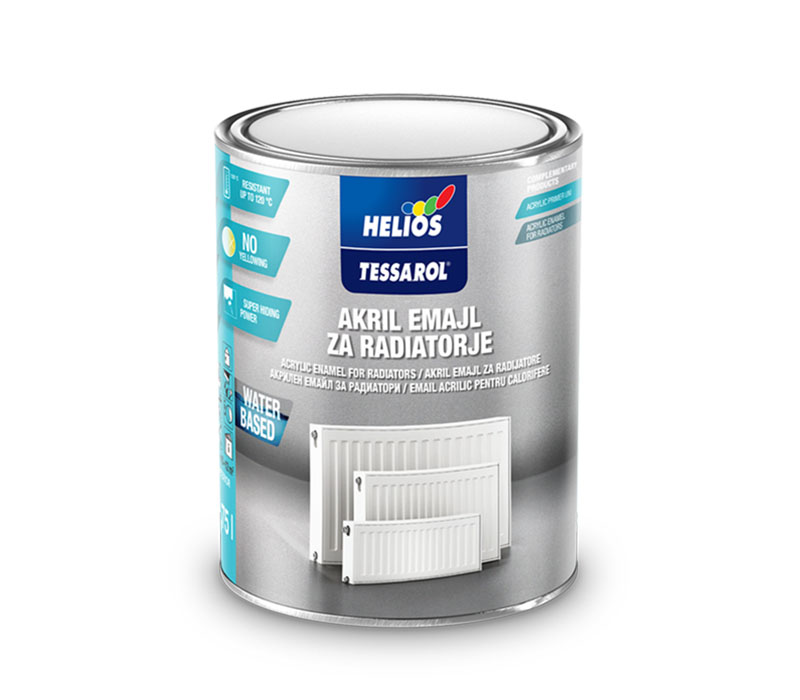 Calculation of consumption:
m2
* Consumption is calculated per one coat
Technical documentation
Safety data sheet
Are you not sure which product to choose?
For a high-quality protection and decoration of iron radiators, radiator and hot water pipes indoors.
Properties:
does not turn yellow, dries quickly and has no unpleasant odour 
resistant up to 120 °C 
glossy top coat 
eco-friendly 
thinning with water 
easy application 
resistant to household cleaning agents
Consumption:
1 l covers 10 - 12 m2 of surface in 1 coat.
Packaging units:
Detailed information is available in the technical data sheet.
Tip:
We recommend you to read the technical information before using the product. The product must not freeze, store at a temperature between +5 °C and +35 °C and do not expose to direct sunlight. Do not pour the product into the sewage system.
Instructions for use:
Interior surfaces

Mix before use

Thinning with water

Application with a roller or brush

Application with spraying

Cleaning tools with water

Drying time between individual coats: 8-10 h

Working conditions 10-25 °C