TESSAROL ENAMEL FOR GALVANISED STEEL METAL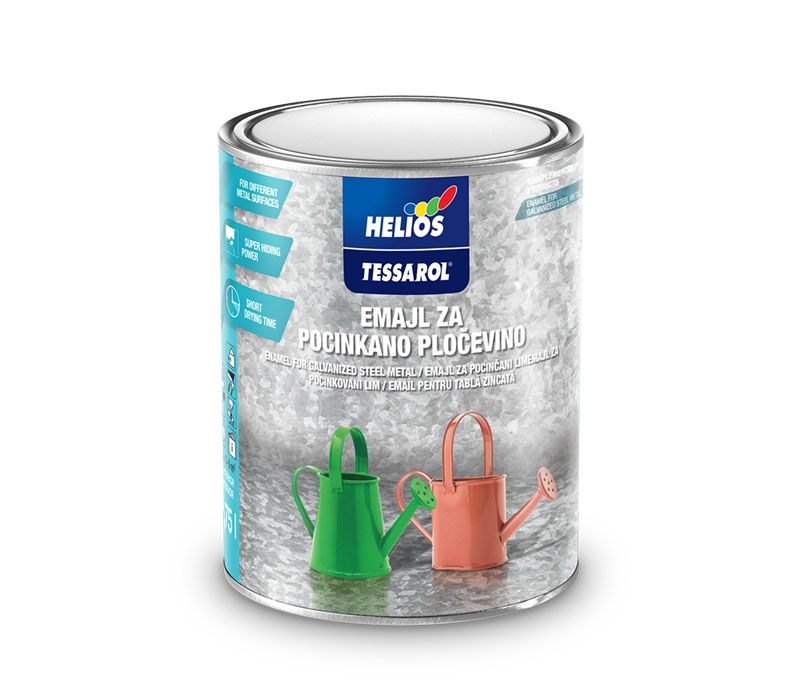 Calculation of consumption:
m2
* Consumption is calculated per one coat
Technical documentation
Safety data sheet
Are you not sure which product to choose?
Top coat for the decoration and protection of galvanized steel metal and other non ferrous metals. It is used for galvanized steel roofs, gutters, fences, containers, door edges, and central heating copper pipes.
Properties:
excellent adhesion onto galvanized steel metal and other non ferrous metals 
top coat 
silky gloss 
quick-drying 
good weather- and light resistance 
good hiding power (possible just one layer)
Consumption:
1 l covers 7 - 9 m2 of surface in 1 coat.
Packaging units:
Detailed information is available in the technical data sheet.
Colour shades:
White and 7 colour shades.
Tip:
We recommend you to read the technical information before using the product. Store the product at a temperature between +5 °C and 35 °C and do not expose it to direct sunlight. Do not pour the product into the sewage system.
Instructions for use:
Exterior and interior surfaces

Mix before use

If necessary thinning with TESSAROL NITRO thinner

Application with a roller or brush

Application with spraying

Cleaning tools with a thinner

Drying time between individual coats: max. 3 h

Working conditions 10-25 °C