SPEKTRA ANTINICOTINE PAINT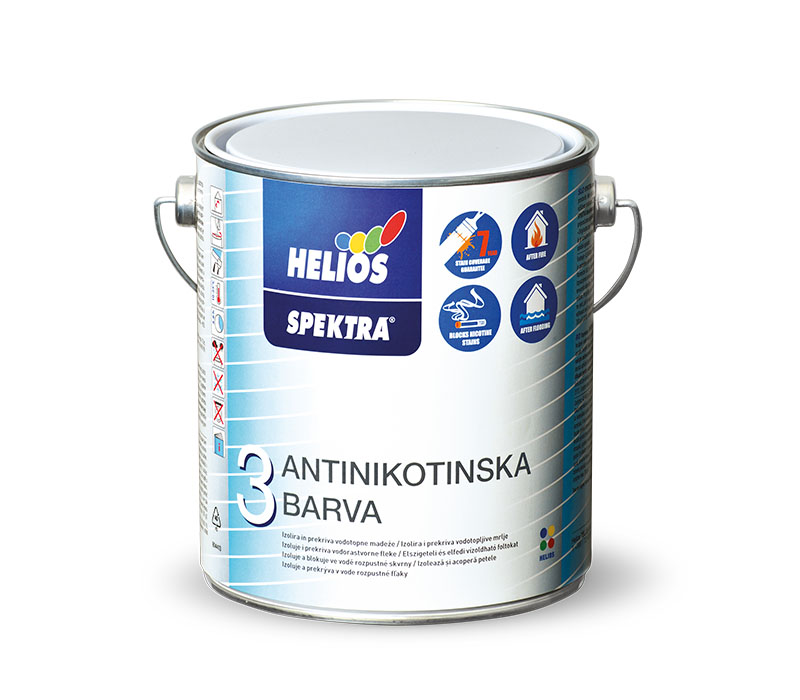 Calculation of consumption:
m2
* Consumption is calculated per one coat
Technical documentation
Safety data sheet
Are you not sure which product to choose?
High-quality paint for the decoration and protection of interior wall and ceiling surfaces. It covers and isolates stains resulting from smoking, water leakage, tar, different oils, fire, etc. Such stains are water-soluble, meaning that during the drying phase water brings them on the surface, therefore water-based paints are not suitable for their insulation. It is suitable for painting of all types of mineral plasters, fiber-cement panels, concrete, plaster-cardboard panels, glass fiber wallpapers, relief wall papers and old coatings.
Properties:
excellent insulation of water-soluble stains
no aggressive smell
resistant to wet wiping – washability class 2 (EN 13300)
easy to apply
Consumption:
1 l covers 8 - 10 m2 of surface in 1 coat.
Packaging units:
Detailed information is available in the technical data sheet.
Tip:
We recommend you to read the technical information before using the product. Store the product at a temperature between +5 °C and 35 °C and do not expose it to direct sunlight. Do not pour the product into the sewage system.
Instructions for use:
Interior wall and ceiling surfaces

Mix before use

Not to be thinned with a thinner

Application with a roller or brush

Cleaning tools with a thinner

Drying time between individual coats: 4-6 h

Working conditions 10-25 °C

Cleaning with a wet cloth

Gloss level - matt