SPEKTRA LEVEL MEDIUM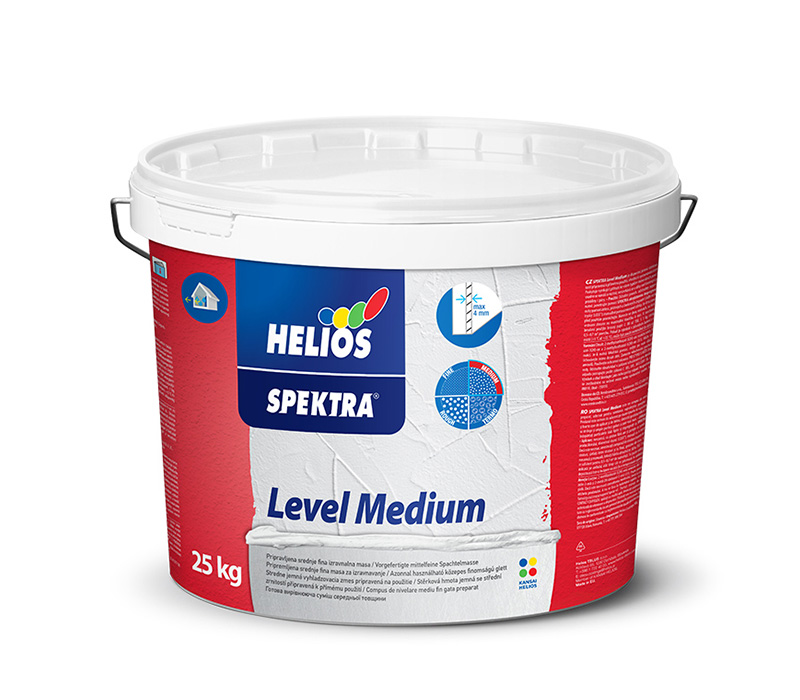 Calculation of consumption:
m2
* Consumption is calculated per one coat
Technical documentation
Safety data sheet
Are you not sure which product to choose?
SPEKTRA LEVEL MEDIUM is a ready-made medium fine dispersion levelling compound, suitable for levelling interior wall and ceiling surfaces. It has excellent adhesion to all types of mineral surfaces, is elastic and very easy to apply and stretch; due to its high thixotropy, it does not shrivel and fills larger holes and pores perfectly. Levelling up to a thickness of 4 mm.
Properties:
The benefits of medium granulation fillers:
fills unevenness in concrete and plastered walls better and with fewer wrinkles

easy sanding
easy application
suitable for manual and machine application
Consumption:
1,5 - 2 kg of putty is required for a 1 m2 surface (at thickness of 2 mm).
Packaging units:
Detailed information is available in the technical data sheet.
Tip:
We recommend you to read the technical information before using the product. The product must not freeze, store at a temperature between +5 °C and +35 °C and do not expose to direct sunlight. Do not pour the product into the sewage system.
Instructions for use:
Interior wall and ceiling surfaces

Thinning with water if necessary

Trowel application

Application with spraying

Cleaning tools with water

Drying time between individual coats: 10-12 h

Working conditions 10-25 °C