SPEKTRA LEVEL TERMO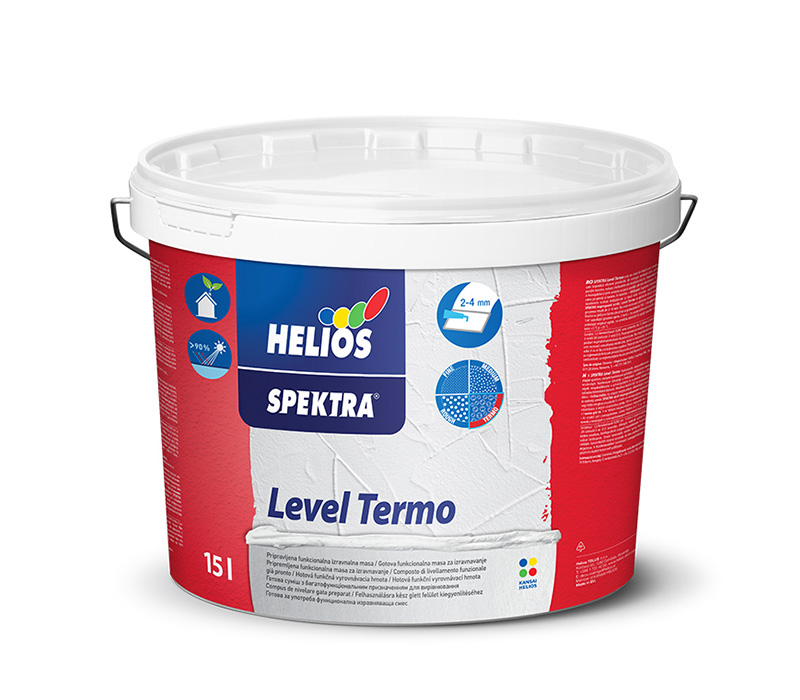 Calculation of consumption:
m2
* Consumption is calculated per one coat
Technical documentation
Safety data sheet
Are you not sure which product to choose?
SPEKTRA LEVEL TERMO is a functional primer based on hollow glass beads which absorb, retain and reflect heat received back into a space. This reduces heat passage through wall surfaces from the inside in winter and prevents the passage of heat from the outside indoors in summer. This reduces the consumption of energy for heating or cooling. It resolves the problem of thermal bridges. The walls cool down to a significantly lesser degree, preventing the formation of condensation and mold growth, thereby creating healthier living conditions. 
Properties:
for overcoming thermal bridges
decreases the cost of heating/cooling energy sources
decreases the formation of condensation and mould
creates healthy living conditions
long-lasting effect
easy to apply
Consumption:
When applying 2 coats, 2 l of putty covers 1 m2 of surface (of a 2 mm thickness per layer).
Packaging units:
Detailed information is available in the technical data sheet.
Tip:
We recommend you to read the technical information before using the product. The product must not freeze, store at a temperature between +5 °C and +35 °C and do not expose to direct sunlight. Do not pour the product into the sewage system.
Instructions for use:
Interior wall and ceiling surfaces

Mix before use

Not to be thinned

Trowel application

Cleaning tools with water

Drying time between individual coats: 10-12 h

Working conditions 10-25 °C