New product for heavily exposed surfaces - TESSAROL PRO PROTECT
29.03.2021
In 2021, we are launching a new alkyd-based product for our most discerning customers, which is intended for the decoration and protection of all wooden and iron surfaces against unfavourable and harmful weather conditions.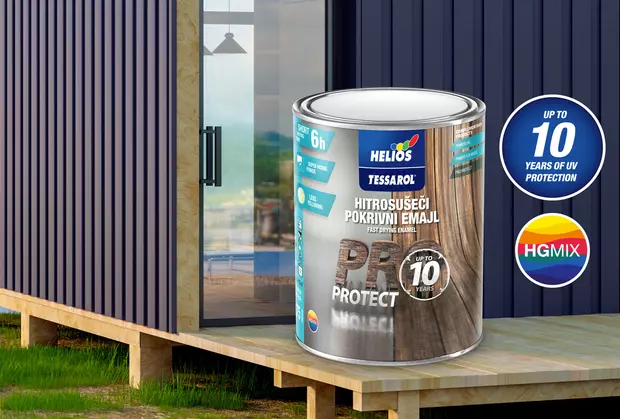 The product is available in 0.75 l packaging in six top-selling shades according to the RAL colour card. In addition to the ready-made RAL shades, it is possible to mix the enamel to obtain an additional range of colour shades. 1 l covers 14 - 16 m2 in one coat.
 
Suitable for the protection of wooden and metal surfaces
Quick drying (the following coat can be applied as early as after 6 hours)
It provides excellent resistance to heavy weather conditions
Excellent hiding power
Easy application and good levelling
Stable colour shade and gloss (almost no yellowing with the white shade)
Excellent elasticity and hardness of the coating
6 RAL shades and option of shading with the HGMIX mixing system
 
The new TESSAROL brand product will replace the Professional Enamel. Compared to its predecessor, TESSAROL PRO PROTECT has an improved formula which offers increased weathering protection, while also enabling a shorter drying time.