SPEKTRA Top Dry – when a wet facade becomes history
19.03.2021
SPEKTRA Top Dry is a high-quality acrylic facade paint, which allows for extremely fast drying of facade surfaces after rain, dew, and fog. It also provides high resistance of colour shades and an option of shading in IR reflective shades.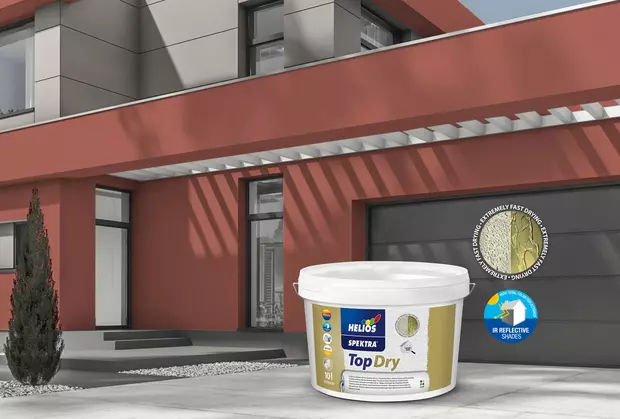 Thanks to the IR pigments in the finishing layer, IR reflective shades prevent heat absorption and thus have a significant effect on irradiated surfaces becoming less heated, which helps extend the lifespan of dark-shade facades. The paint provides high mechanical resistance and resistance to the effects of weathering and the industrial atmosphere.
It can be applied to all types of mineral and dispersion plasters, to fiber-cement and wood-cement boards, to concrete as well as to old dispersion coatings.
Extremely fast drying of facade surfaces after rain, dew, and fog
High durability of colour shades
HGMIX (Inorganic pigments)