PAINT SMART – tackling leftover paint in a responsible and creative way
17.05.2022
After painting the walls, refreshing the outdoor furniture or giving the children's room a makeover, you probably ended up with a half-empty container of paint and wondering what to do with it. PAINT SMART is our initiative that promotes sustainable and responsible handling of paint, in particular leftover paint, by sharing useful tips and tricks.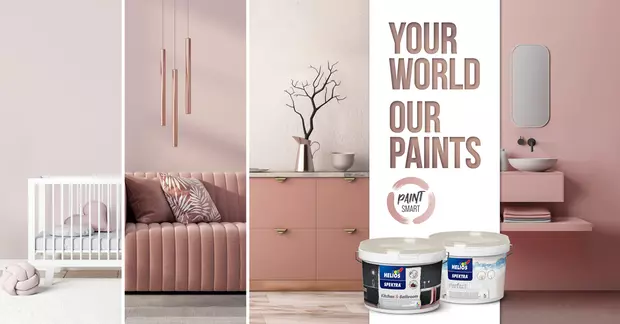 Responsible handling of paint begins by planning and purchasing the right quantity of paint. Once the type and quality of paint or coating system has been selected, you should calculate how much paint you actually need, bearing in mind its properties and the surface area. A practical tool that can help you calculate consumption is the online calculator.
Despite careful planning, chances are you will end up with some leftover paint after the work has been done. Perhaps too little to start a new renovation project. However, remember that even the smallest bit of leftover paint combined with a pinch of creativity are enough to add charming details to your home that will make its interior beautiful and interesting. To find more tips, tricks and creative ideas, you can explore our Library of ideas.
We tend to forget that paint on a shelf has a relatively short life, especially when not stored properly. Scraps of leftover paint can come in very handy when you need to cover up key marks, shoe prints, discolorations, scratches, scuffs and other stains that appear on surfaces over time. Larger amounts of paint can be passed on to friends, acquaintances, the local kindergarten, schools, a charity or non-profit organisation, where they will be happy to accept paint leftovers for various creative projects and workshops.
Paints, as well as lacquers, solvents, thinners, paint-removal agents are treated as environmentally hazardous waste. Old paint which can no longer be used or donated should be taken to a collection point for hazardous waste. You can also wait for the next scheduled hazardous waste collection in your town. But how can one tell if paint is really no longer fit for use, and what signs should you watch out for when you find old leftovers of paint on the shelf? Read further.