SPEKTRA Facade Acryl and IR reflective hues – new in the world of facade paint
25.05.2022
Unlike interior wall paints, facade paints are exposed to various weather factors such as the sun, rain, heat and cold. To ensure a high quality of protection, it is thus imperative to select the right facade paint and colour tone.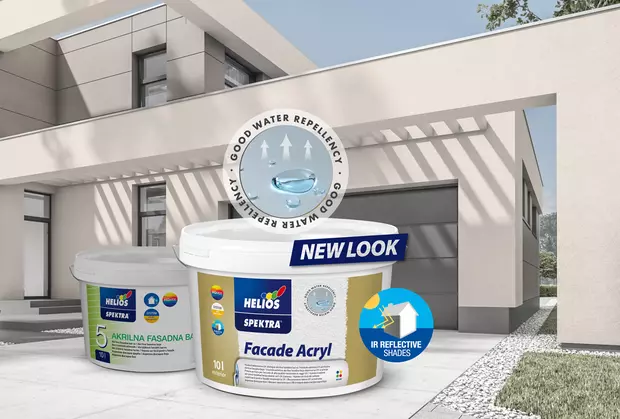 SPEKTRA Facade Acryl is a premium quality acrylic facade paint, designed for both the decoration and the protection of external facade surfaces. It is suitable for painting different types of mineral and dispersion plasters, fibre-cement and wood-cement panels and concrete, and for coating over old dispersion coatings. Its advantages include:
 High level of water resistance
 Water soluble, health- and environmentally friendly paint
 Resistance to wet scrubbing
 Resistance to the effects of weathering and the harmful industrial atmosphere
A wide range of colour tones within the HGMIX Exterior Colour Collection colour card
Another key advantage of SPEKTRA Facade Acryl paint are its IR reflective hues, which prevent heat absorption owing to the IR pigments in the finishing layer and thus considerably reduce the heating of irradiated surfaces, while ensuring a considerably longer life and durability of facades even in darker colour tones.
By choosing IR reflective coatings, you will increase the energy efficiency of the façade surface and add value to the building.