SPEKTRA biocide agent Sanitol concentrate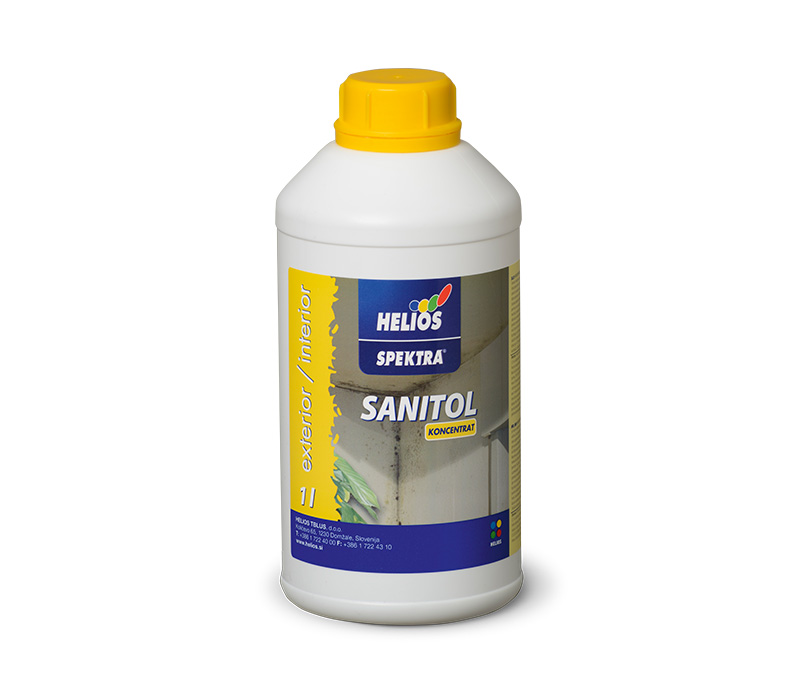 Calculation of consumption:
m2
* Consumption is calculated per one coat
Technical documentation
Safety data sheet
Are you not sure which product to choose?
Colourless water-based biocidal agent for the disinfection of interior and exterior wall surfaces infested by mould and algae, and for eliminating house fungus on wooden surfaces. It is suitable for infested surfaces, such as plasters, concrete, fiber-cement boards, plaster panels and surfaces painted with dispersion paints.
Properties:
quick and effective action
for interior and exterior wall surfaces
water-soluble
not harmful to human
Consumption:
1 l of thinned agent covers 5 – 10 m2 of surface in 1 coat.
Packaging units:
Detailed information is available in the technical data sheet.
Colour shades:
Transparent, slightly yellowish.
Tip:
We recommend you to read the technical information before using the product. The product must not freeze, store at a temperature between +5 °C and +35 °C and do not expose to direct sunlight. Do not pour the product into the sewage system.
Instructions for use:
All exterior and interior surfaces

Thinning with water 1:4

Application with a roller or brush

Application with spraying

Cleaning tools with water

Drying time between individual coats: 12 h

Working conditions 10-25 °C