BORI GEL WOODSTAIN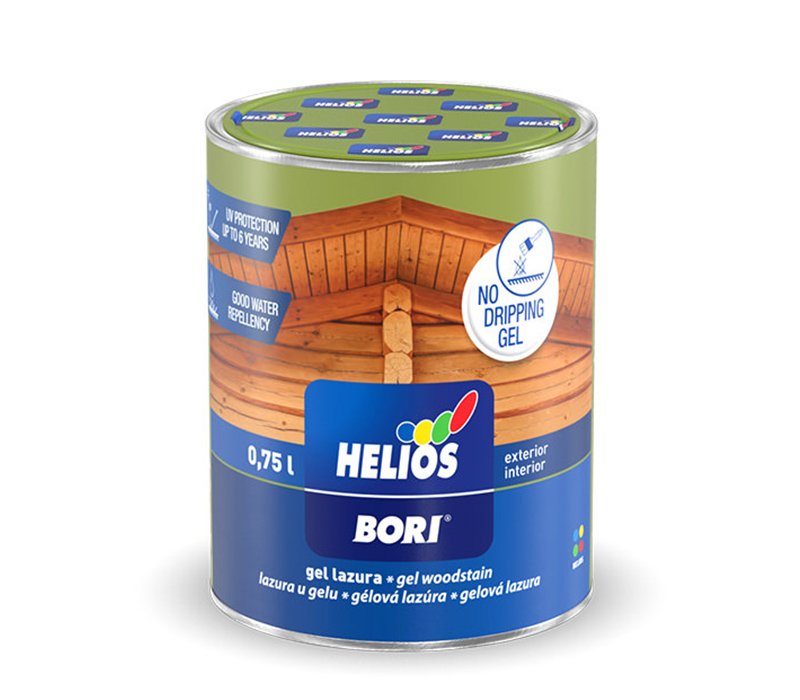 Calculation of consumption:
m2
* Consumption is calculated per one coat
Technical documentation
Safety data sheet
Are you not sure which product to choose?
BORI gel wood stain is used for the decoration and protection of wood both indoors and outdoors, as it offers excellent protection both against the sun as well as other influences of weathering. It is suitable for surfaces, such as windows, doors, blinds, shutters, fences, claddings, log cabins, garden houses, garden furniture, etc.
The product is distinguished from other woodstain coatings by its unique gel structure which prevents dripping from the brush and sagging on vertical surfaces. It is therefore ideal for overhead painting such as eaves and ceiling formwork.
Properties:
rich, silky gloss coating film
protection of wood from the sun and other influences of weathering
added waxes increase the water-resistance of the coating
elasticity - the protective film does not crack or peel off
Consumption:
1 l covers 14 - 16 m2 of surface in 1 coat.
Packaging units:
Detailed information is available in the technical data sheet.
Colour shades:
6 standard colour shades.
Tip:
We recommend you to read the technical information before using the product. The product must not freeze, store at a temperature between +5 °C and +35 °C and do not expose to direct sunlight. Do not pour the product into the sewage system.
Instructions for use:
Exterior and interior surfaces

Do not mix before use

Not to be thinned with a thinner

Brush application

Cleaning tools with a thinner

Drying time between individual coats: 24 h

Working conditions 10-25 °C