SPEKTRA DECOR ACTIVATOR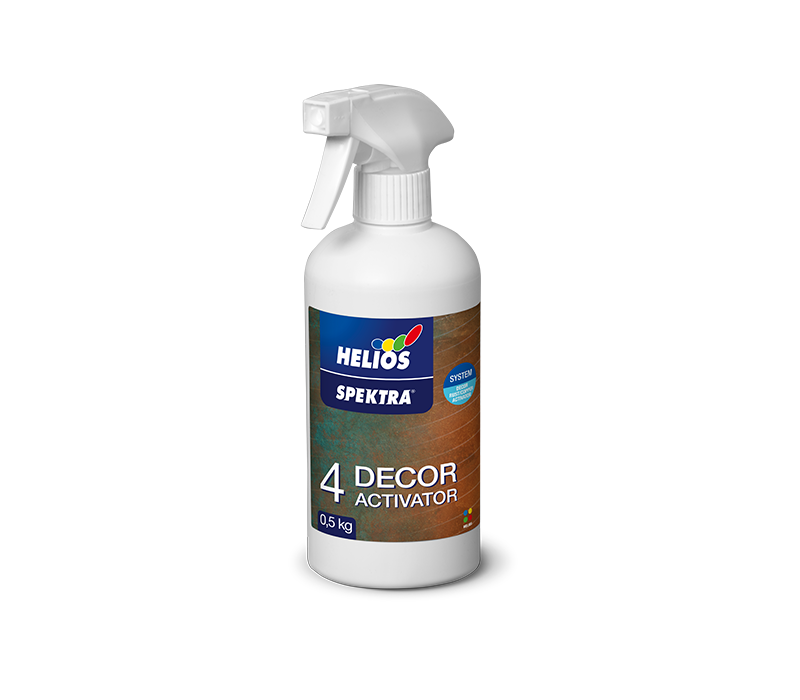 Calculation of consumption:
m2
* Consumption is calculated per one coat
Technical documentation
Safety data sheet
Are you not sure which product to choose?
SPEKTRA DECOR ACTIVATOR is a mixture of oxidizing substances in water, which when applied to the dried coat SPEKTRA DECOR (RUST/COPPER), initiates the process of oxidation of special ingredients in the coat. Depending on the chosen coating, the appearance of oxidized iron (rust) or oxidized copper (patina) is formed.
Properties:
• authentic appearance of rusty iron/copper patina
• various decorative effects
• unique rustic appearance of wall surfaces
• high mechanical resistance
Consumption:
1 kg covers 7–10 m2 of surface in 1 coat.
Packaging units:
Detailed information is available in the technical data sheet.
Tip:
We recommend you to read the technical information before using the product. The product must not freeze, store at a temperature between +5 °C and +35 °C and do not expose to direct sunlight. Do not pour the product into the sewage system.
Instructions for use:
Interior surfaces

Mix before use

Not to be thinned

Application with spraying

Drying time between individual coats: 3-4 h

Working conditions 10-25 °C