SPEKTRA DECOR TOPAZ (GOLD/SILVER)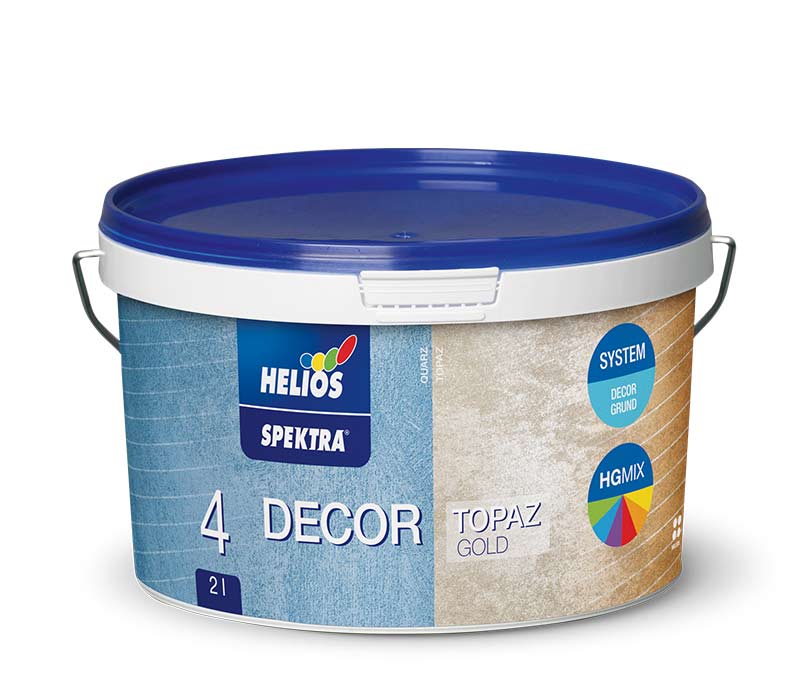 Calculation of consumption:
m2
* Consumption is calculated per one coat
Technical documentation
Safety data sheet
Brochure
Are you not sure which product to choose?
SPEKTRA DECOR TOPAZ is intended for the protection and decoration of interior and exterior wall surfaces. The coating is vapor permeable, does not absorb dirt, is resistant to mechanical damage and can be cleaned with water and non-abrasive household cleaning-agents. It is suitable for making new as well as for restoring old wall surfaces. We use a variety of applications to measure low decorative effects: from a more flowing to a softly flowing joint coating to uniform velvety surfaces with metallic reflections. Possibility of making decorative techniques.
Properties:
an elegant blend of colours with a metallic reflection
high mechanical resistance
resistant to dirt absorption
can be cleaned with water and non-abrasive household detergents
Consumption:
1 l covers 6 – 8 m2 of surface in 1 coat.
Packaging units:
Detailed information is available in the technical data sheet.
Colour shades:
Golden, silver, 28 HGMIX colour shades
Tip:
We recommend you to read the technical information before using the product. The product must not freeze, store at a temperature between +5 °C and +35 °C and do not expose to direct sunlight. Do not pour the product into the sewage system.
Instructions for use:
Exterior and interior wall surfaces

Mix before use

Thinning with water 5-10 %

Brush application

Cleaning tools with water

Drying time between individual coats: 6-8 h

Working conditions 10-25 °C

Gloss level - semi-matt