SPEKTRA Style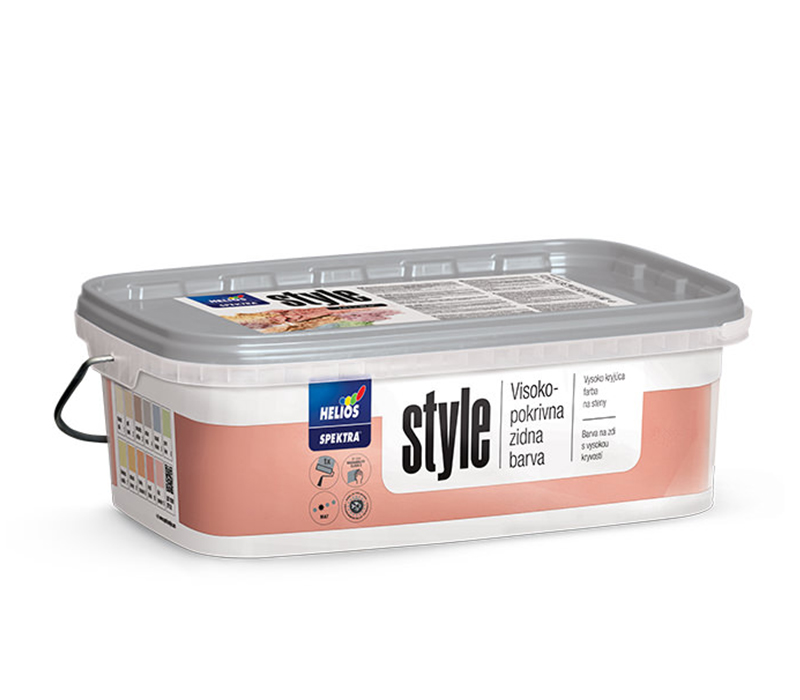 Calculation of consumption:
m2
* Consumption is calculated per one coat
Are you not sure which product to choose?
Human- and environment-friendly paint, without any particular odour, which means that the room does not require airing after the painting process is completed. Ready-made in 11 modern shades which can be mixed between them. Thanks to its excellent application and technical properties, it enables easy and quick application. Future maintenance of wall surfaces is easy, as the coating is resistant both to cleaning with wet cloths as well as mild household cleaning agents.
You can also see the shades on the product's website www.spektrastyle.com.
Properties:
11 modern pastel shades
health- and environment friendly recipe
excellent hiding power with one coat only
easy to apply
resistant to wet wiping
washable according to EN 13 300 - class 2
Consumption:
1 l covers approximately 8 m2 of surface in 1 coat.
Packaging units:
Detailed information is available in the technical data sheet.
Tip:
We recommend you to read the technical information before using the product. The product must not freeze, store at a temperature between +5 °C and +35 °C and do not expose to direct sunlight. Do not pour the product into the sewage system.
Instructions for use:
Interior wall and ceiling surfaces

Mix before use

Thinning with water 5 %

Application with a roller or brush

Cleaning tools with water

Drying time between individual coats 6 h

Working conditions 10-25 °C

Cleaning with a wet cloth

Gloss level - matt