SPEKTRA Active Air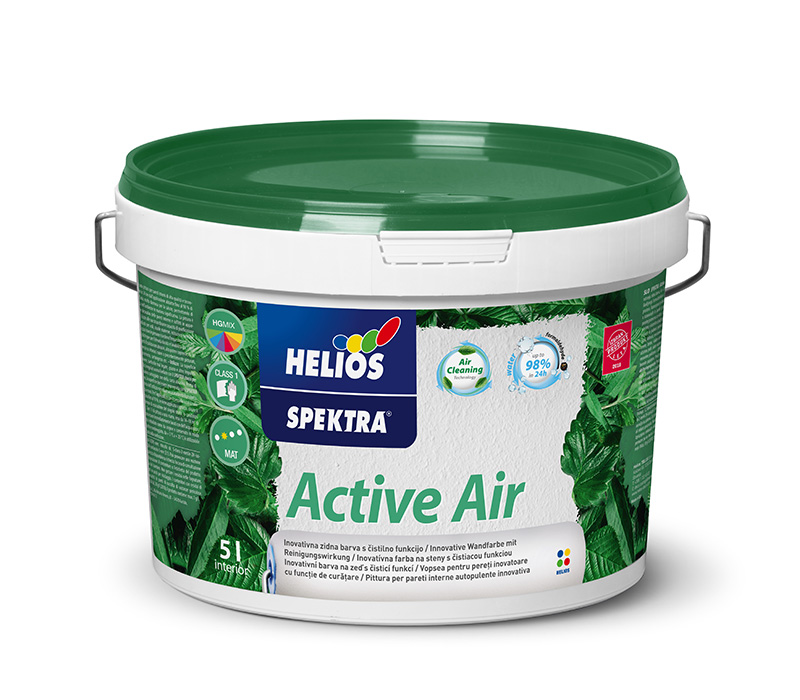 Calculation of consumption:
m2
* Consumption is calculated per one coat
Are you not sure which product to choose?
A high quality, technologically innovative interior wall paint that breaks down formaldehyde in the air. Formaldehyde is one of the largest and most concerning pollutants in a space due to its many sources of origin. It is an extremely harmful carcinogen found in furniture, wallpaper, curtains, wooden linings and other household fabrics, as well as in certain cleaning products. The paint is suitable for all interior wall surfaces in private and commercial buildings. Thanks to its extraordinary air-purifying function, it is especially suitable for kindergartens, schools, health institutions, retirement homes and all spaces where people stay often or for a long time.
Properties:
breaks down formaldehyde in the air
significantly improves the air quality in a room
does not contain solvents
highly washable – class 1 according to EN 13 300
high level of hiding power
easy to clean
resistant to chemicals
wide range of color shades – HGMIX
Consumption:
1 l covers 14 – 18 m2 of surface in 1 coat.
Packaging units:
Detailed information is available in the technical data sheet.
Colour shades:
White, HGMIX.
Tip:
We recommend you to read the technical information before using the product. The product must not freeze, store at a temperature between +5 °C and +35 °C and do not expose to direct sunlight. Do not pour the product into the sewage system.
Instructions for use:
Interior wall and ceiling surfaces

Mix before use

Thinning with water up to a max. of 10 %

Application with a roller or brush

Application with spraying

Cleaning tools with water

Drying time between individual coats: 4-6 h

Working conditions 10-25 °C

Cleaning with a wet cloth

Gloss level - matt